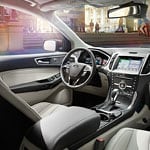 Making a good decision doesn't always have to be boring. Just as buying a reliable and dependable car shouldn't be a boring purchase. The new 2020 Ford Edge is anything but boring or plain. A popular mid-size SUV, the Ford Edge demands attention on the road. Luxurious and stunning design features make the 2020 Ford Edge the most beautiful practical decision you've ever made.
A Design That Commands Attention

The exterior of the 2020 Ford Edge is sculpted to be aerodynamic, have swooping lines, and an aggressive front grille.


Read More