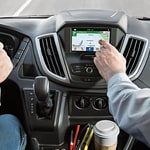 The top technology features for the Ford Transit passenger wagon include safety and connectivity as a priority. At West Herr Ford of Amherst, we love to show off the wide variety of technology that comes with this Ford van.
The safety technology is centered around staying focused on the road as well as preventing collisions. There is pre-collision assist with automatic emergency braking and adaptive cruise control, which is excellent for driving the Ford Transit in stop-and-go traffic. There are also forward collision and blind-spot warnings.
The connectivity technology features for the Ford Transit include integrated apps such as Ford + Alexa and Ford + Waze for navigation. There are also connectivity features to listen to your playlists, and there is a Wi-Fi hotspot connection in the Transit so your passengers can be more comfortable as you drive.