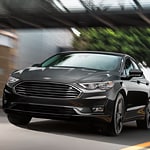 A quiet absorbent ride packaged in a larger commuter vehicle is on the market for car enthusiasts seeking such a ride, introducing the 2021 Ford Fusion. This midsize SUV stands tall on its four-wheels in a class of comfort, luxury, and style of its own. We at West Herr Ford of Amherst located in Getzville carry a variety of 2021 Ford Fusions so that you have the option of choosing a model that fulfills all your driving needs.

A Stylish Interior

Dressed up with a fashionable interior, the Ford Fusion houses cloth seats, 10-way power drivers' seats, and six-way power passenger seats. The vehicle comes equipped with dual-zone climate control, a powered steering wheel, Apple CarPlay, Android Auto, an eight-inch touch screen, In-Car WiFi, and Bluetooth Audio Streaming.

An Eye-Catching Exterior

The automobile's polished exterior has a choice of eight-body colors, LED taillamps and halogen headlamps, 16-inch wheels with rain-sensing windshield wipers, power-folding side mirrors, and a moon roof.