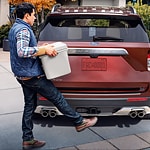 Ford Explorer more than justifies its status as one of the most popular three-row SUVs on the market. It's big inside and out, yet it handles expertly, with a powerful EcoBoost engine, tons of horsepower and torque and the cutting-edge tech to match. Take the following two performance features for examples.
What Drive Mode Do You Prefer?
Explorer takes the challenge out of navigating challenging road conditions with its Terrain Management System. The system's drive modes can be selected to automatically adjust Explorer's power distribution, leaving you to focus solely on driving through Getzville or the roughest off-road landscapes.
Smoothest Gear-Shifting Ever
Standard on Ford Explorer is 10-speed automatic transmission with SelectShift. SelectShift offers the option of fully automatic transmission or retro clutch shifting without the actual clutch. The system is highly accurate and responsive, resulting in quicker up- or downshifting minus any lag between a shift in gears.
Play with Ford Explorer's SelectShift today during a fun, informative test drive at our dealership.